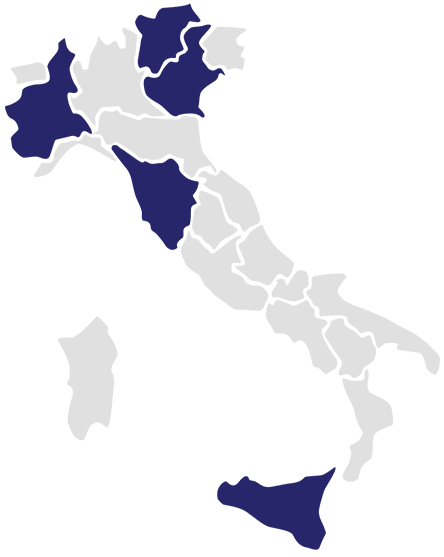 Introduction to Italian Vine
Italian Vine Limited imports and distributes boutique and traditional Italian wines in Hong Kong. We select our products very carefully and our portfolio consists of wines that offer traditional style and authentic taste from the finest wine production regions in Italy.
To begin, we are honored to be joined by the Alto Adige based Kettmeir winery. Founded in 1919, it is one of the Alto Adige's leading producers of the region. It is also one of the pioneers in the making of sparkling wine and has long been releasing elegant single vineyard "Maso" selections. Its philosophy of making elegant, varietal wines with strong sense of place is reflected in every bottle that bears the Kettmeir label.
Next comes the three respected wineries from Piedmont – Marchesi Incisa Della Rocchetta, Castello di Neive and Marcarini. Marchesi Incisa Della Rocchetta is one of the oldest families of Piedmont. Having their vineyard situated in the unique territory of the Monferrato Hills, for generations, they have been devoted to cultivation of grapevines on the Monferrato Hills.  Castello di Neive and its 150 acres estate is owned by the Stupino brothers and sisters – Anna, Giulio, Italo & Piera. Since 1970, they have collaborated with the University of Turin and they are famous for their scientific approach in winemaking.  Marcarini is located in the heart of Langhe near Alba, the Marcarini family has been producing traditional Barolo and other famous Piedmontese wines for five generations.
Heading south to Tuscany we have selected three unique wineries that give us a genuine interpretation of the famous Sangiovese grape. Lamole di Lamole which is the most genuine fascination in Chianti Classico with its vineyards situated at about 500 meters above sea level. Azienda Agricola Uccelliera with its unique Brunello and Tenuta Sassoregale, located in Maremma, a wild untouched territory of south Tuscany, with soil containing sands and fine clay particles that infuse the wines, minerality, balanced power and elegance.
At last but not least, the boutique winery of Marc de Grazia from the northern slope of Mount Etna in Sicily, Vigne di Eli. Elena, nicknamed Eli is Marco's daughter and Elena's drawings are lovely artworks used as labels for Vigne di Eli Etna Bianco and Etna Rosso.