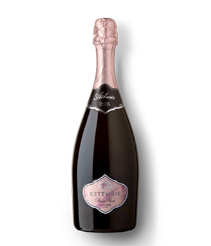 Kettmeir – Metodo Classico Brut Rosè
(750ml)
TYPE OF SOIL:
Largely loose base, limestone, good clay content and normal amounts of organic matte
ALCOHOL VOLUME:
12.5% vol.
SERVING TEMPERATURE:
6 - 8°C
Regions:
Trentino-Alto Adige
Description
TECHNICAL PROFILE
In the spring following the harvest, sucrose (around 24g/l) and selected yeasts are added to the base wine, it is put into 750ml bottles closed with crown caps and stacked in racks in the cellar at 10º-12°C, where the second fermentation begins. When this is over, the wine remains on its lees for at least 15 months, prior to being disgorged and released for sale.
SERVING SUGGESTIONS
Recommended as an aperitif, but also after meals with tarts,cookies or dry desserts. Try accompanying a whole meal with it, especially with elaborate fish and seafood dishes.