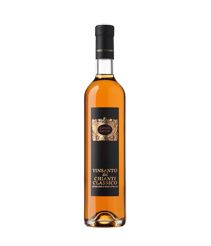 Lamole di Lamole – Vinsanto del Chianti Classico
(500ml)
VARIETY:
Trebbiano Toscano, Malvasia del Chianti and Canaiolo Nero
SERVING TEMPERATURE:
8 - 10°C (71.2 - 71.6° F)
AGEING POTENTIAL:
AGEING POTENTIAL
Description
TECHNICAL PROFILE
Scrupulous bunch selection is the first step and the best of the fruit harvested is placed to dry in special rooms. The clusters are laid out and hung up until their sugar content has concentrated to the desired level. Next comes gentle pressing, after which the must is transferred into small wooden barrels with a capacity of 0.5-1 hl. Fermentation begins spontaneously thanks to the must's high sugar content and about 16 months later, the wine is racked to clarify the final product and then returned to its "caratello" (small wooden berrel) for a further 20 months' ageing.
TASTING NOTE
Deep amber with orange highlights. The intensity of the colour tells you that the aromas and flavours will be equally satisfying. Fragrant estery nuances laced with oak and honey reveal an austerely complex personality, also evident in the clean, assertive perceptions of alcohol and acidic freshness on a palate whose sheer
length is thrilling.